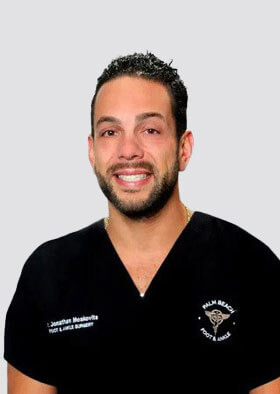 Jonathan Moskovits, DPM
Dr. Jonathan Moskovits was born in New Brunswick, New Jersey but is essentially a Palm Beach County native as he was raised in Boca Raton, Florida. He attended the University of Florida on academic scholarship and graduated cum laude with a Bachelors of Science in Psychology in 2005. After his undergraduate studies, Dr. Moskovits furthered his education and enrolled in a masters program at Barry University for a degree in Biomedical Sciences. It was here that Dr. Moskovits began to develop an appreciation for the podiatric profession.
Dr. Moskovits went on to graduate from Barry University School of Podiatric Medicine in 2010 with honors. Dr. Moskovits chose a top-level surgical residency program with an emphasis on wound care at South Miami & Baptist Hospital in Miami, Florida, which he completed in 2013. During his residency he participated in many advanced podiatric research studies and published an article in Podiatry Today on "Emerging Insights In Diagnosing And Treating Osteomyelitis".
Dr. Moskovits joined Palm Beach Foot & Ankle in the summer of 2013 following residency and has grown to be a large part of this practice. Dr. Moskovits is confident in his conservative treatment modalities as well as his surgical interventions; whether elective, trauma based, or reconstructive. Dr. Moskovits is a board certified physician with a special interest in pediatrics and a strong focus in wound care and surgery. He is on staff at multiple hospital locations in the greater Palm Beach County area; covering trauma call as well as participating in the active teaching of surgical residents. He is active at the St Mary's Wound Healing Center, seeing patients there in clinic managing a multitude of different lower extremity wounds and infections.
Contrary to Dr. Moskovits' easy-going bedside manner, he is very serious about formulating a custom treatment plan for all of his patients; especially when taking into account his own active lifestyle and physical interests. He is a first generation American who also is fluent in Hungarian. Dr. Moskovits has two young sons that enjoys coaching in soccer and basketball. In his spare time he plays tennis, cycles, and enjoys science and history based documentaries. He is what some folks would call a "sneaker freak" as he is an avid collector of sneakers and art. He is just as passionate about his family as he is his career and looks forward to seeing you soon!
Dr. Jonathan Moskovits is available for appointments at: