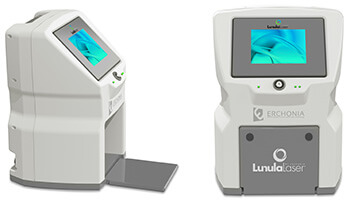 Introducing the Erchonia Lunula Laser, the revolutionary low-level laser therapy bringing new hope to people suffering from onychomycosis, or toenail fungus. Safe and effective, Lunula Laser is the first and only non-thermal laser to receive FDA 510(k) Market Clearance for Onychomycosis. Lunula Laser poses none of the risks and harmful side effects of oral anti-fungal medications and is painless, unlike other laser therapies.
The Erchonia Lunula Laser uses low-level laser light to treat toenail fungus and requires very little time or set-up. It's the only system you can turn on and walk away from - the device already has a pre-set protocol. In fact, as little as (4) 12-minute sessions are needed to treat the affected area.*
To learn more about the Lunula Laser and whether it's right for you, call our office today.
*Individual results may vary.