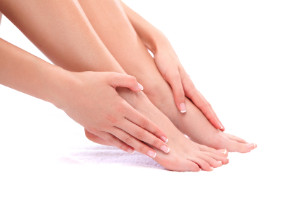 Many people are aware when they have fractured a bone. The pain is sudden and often happens from an injury. This may not be true with stress fractures, as it develops over time. A stress fracture is considered to be a hairline fracture and is caused by repetitive movements. This is a common injury among people who enjoy running, or frequently participating in jumping activities. For example, osteoporosis can weaken the bones, which can make it easier for stress fractures to happen. Additionally, wearing shoes that do not fit correctly can gradually weaken the foot bones, possibly leading to developing a stress fracture. Mild relief may be found if sporting activities are temporarily stopped, and a supportive boot or cast is worn until complete healing has taken place. This can be followed by implementing specific stretches that can help to strengthen the foot. If you have a stress fracture, it is suggested that you confer with a podiatrist who can effectively diagnose and treat this foot condition.
Activities where too much pressure is put on the feet can cause stress fractures. To learn more, contact one of our podiatrists from Palm Beach Foot & Ankle. Our doctors can provide the care you need to keep your pain free and on your feet.
Dealing with Stress Fractures of the Foot and Ankle
Stress fractures occur in the foot and ankle when muscles in these areas weaken from too much or too little use.  The feet and ankles then lose support when walking or running from the impact of the ground. Since there is no protection, the bones receive the full impact of each step. Stress on the feet can cause cracks to form in the bones, thus creating stress fractures.
What Are Stress Fractures?
Stress fractures occur frequently in individuals whose daily activities cause great impact on the feet and ankles. Stress factors are most common among:
Runners                                  
People affected with Osteoporosis
Tennis or basketball players
Gymnasts
High impact workouts
Symptoms
Pain from the fractures occur in the area of the fractures and can be constant or intermittent. It will often cause sharp or dull pain with swelling and tenderness. Engaging in any kind of activity which involves high impact will aggravate pain.
If you have any questions please feel free to contact our offices located in Boynton Beach, Palm Beach Gardens, and West Palm Beach, FL . We offer the newest diagnostic and treatment technologies for all your foot and ankle needs.
Read more about Dealing with Stress Fractures of the Foot and Ankle